---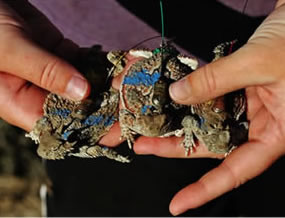 You have reached the Home Page for Western Washington University's Field Biology Courses, instructed by Roger Anderson, Ph.D. The courses offered Summer 2018, are Ecological Methods and Research in Reptile Ecology. The courses will allow students to experience scientific research in the context of the ecology of the Great Basin Desert in Oregon.

Oregon Public Broadcasting's Oregon Field Guide video series has a 10 minute segment about the Biol 408/409 field research course experience: http://watch.opb.org/video/2365183865/
Alvord Basin Slide Show for 2018
Contact: Roger.Anderson@wwu.edu
Why are the two summer field research courses Biol 408 and Biol 409 so valuable to you, the student?
The reasons are many. Some of them are listed below. Choose what works for you and enroll in the courses.
You will learn how to think about the ecological challenges faced by animals and about how to perform research to investigate the behavioral and physiological ways animals meet those challenges.
You will obtain experience in theory and practice of scientific research. You also will be have the intensive experience of problem solving in a collaborative research setting. Real scientific research experience is an essential and invaluable part of an undergraduate education.
You will learn the importance of ecological context, and you will learn to perform a variety of techniques and use an array of instrumentation to measure essential features of :

the microclimate (e.g., spatiotemporal patterns in temperature, humidity, wind, direct and reflected insolation)
vegetation (plant form, diversity, and distribution)
terrestrial invertebrates (spatiotemporal patterns in distribution, abundance, and diversity)

You will earn 12 Quarter-system credits in only 6 weeks, thus permitting greater flexibility in scheduling other classes in the next academic year, and reducing the course overload in the rush to graduate.
Two field courses listed in your transcripts and referred to in your resume will provide you with noteworthy accomplishments that are attractive to graduate programs, government agencies, and environmental assessment firms.
Your fieldwork may be the basis for presentation of posters and talks at regional scientific meetings, thereby further enhancing your post-graduate opportunities.
Your fieldwork may generate the data for publication, and you may have the remainder of the summer and the easier schedule in the next academic year to develop the work into a publishable manuscript. Hence, post-graduate opportunities are ever-more enhanced.
Your avid participation in the course may permit Dr. Anderson to write a very strong letter of recommendation that may be needed when you pursue your career or post-graduate education.
Be Empowered With Rationale
---
Home
Course Description
Course Application
Practical Information
Class Projects
Photo Gallery